Advantages and Disadvantages of Entering Myanmar
This page introduces the advantages and disadvantages of entering Myanmar.
Myanmar was a country that was in isolationism until 2011 due to the rule of military government, and since it is still behind in economic development in ASEAN, it is called the "last frontier of Asia" and attracts attention from all over the world as a new market and manufacturing and logistics hub.
If you are looking to expand into Myanmar in the future, it is the content that you want to know by all times. Please take a look!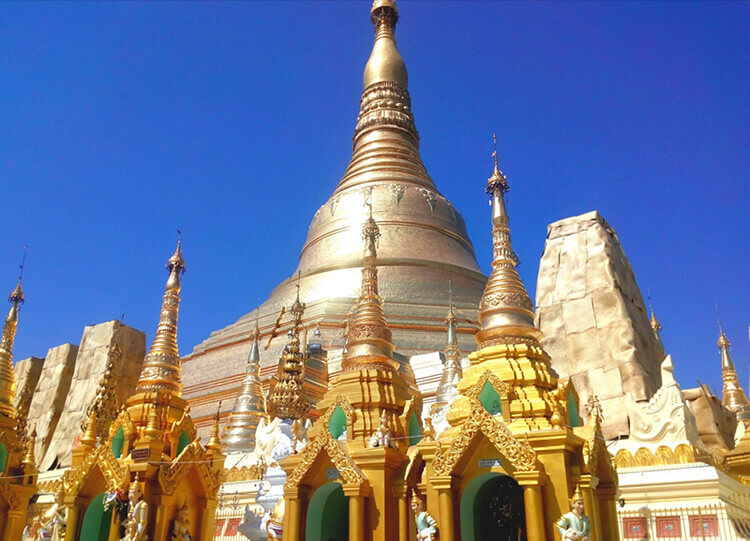 Six Benefits of Entering Myanmar
Merit 1

Inexpensive labor

One of the major attractions of investing in Myanmar is the low labor costs.

As you can see from the graph below, Myanmar's worker wages are the cheapest in Asia.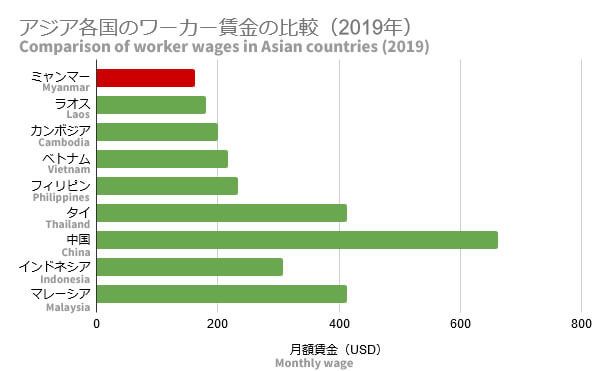 In addition, the statutory minimum wage is set very low at 4800Kyat (about 350 yen) per day.
Under these circumstances, many sewing factories have already made in place in countries that have significant advantages for labor-intensive manufacturing. In addition, many of the products produced are exported to Japan.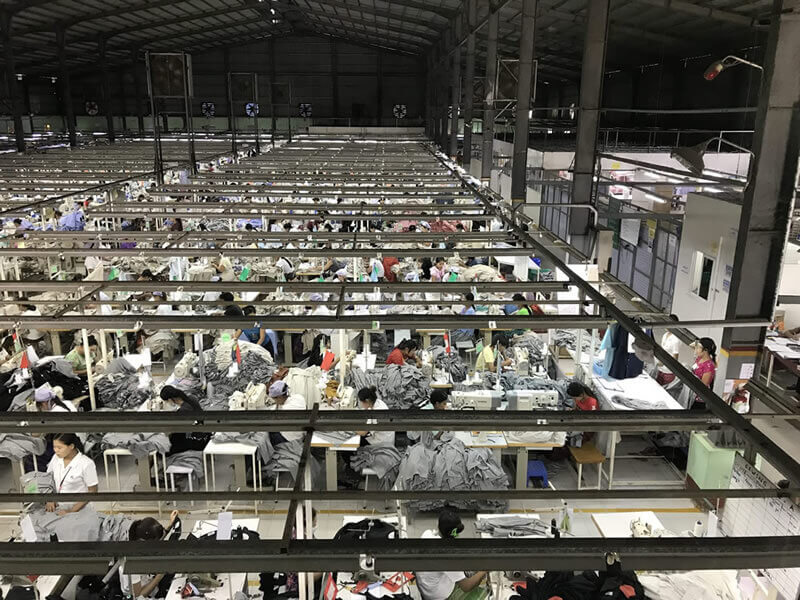 In recent years, universities in Myanmar have also put a lot of effort into IT education.
The University of Information Technology (UIT), the top computer university in Myanmar, has partnered with five universities, including Aoyama University in Japan. We are also strengthening IT education with Japanese universities and companies, including Fujitsu's laboratory in the facility.
Many IT offshore development companies are expanding into Myanmar with the aim of acquiring such a future-like and relatively inexpensive labor force.
As labor costs rise in Asian countries, Myanmar is expected to attract even more attention in the future.
Merit 2

Good location

Myanmar is located between China and India, with the world's largest and second largest population. In addition, it borders Bangladesh, Thailand, and Laos, which have the eighth largest population, and the population of the bordering country alone is more than 30 people.

Due to these location conditions, Myanmar is attracting attention as a manufacturing base and logistics base. Currently, the development of the East-West Economic Corridor connecting India, Myanmar and Thailand and the development of highways scheduled to open in 2021 are progressing. We are also developing an Asian highway connecting China.

In this way, the road environment is gradually being developed. In addition, many developments are planned and implemented, such as Hantawadi Airport, the port of Dawei, and the railway between Yangon and Mandalay. Therefore, the attractiveness of manufacturing bases and logistics bases is expected to increase even further in the future.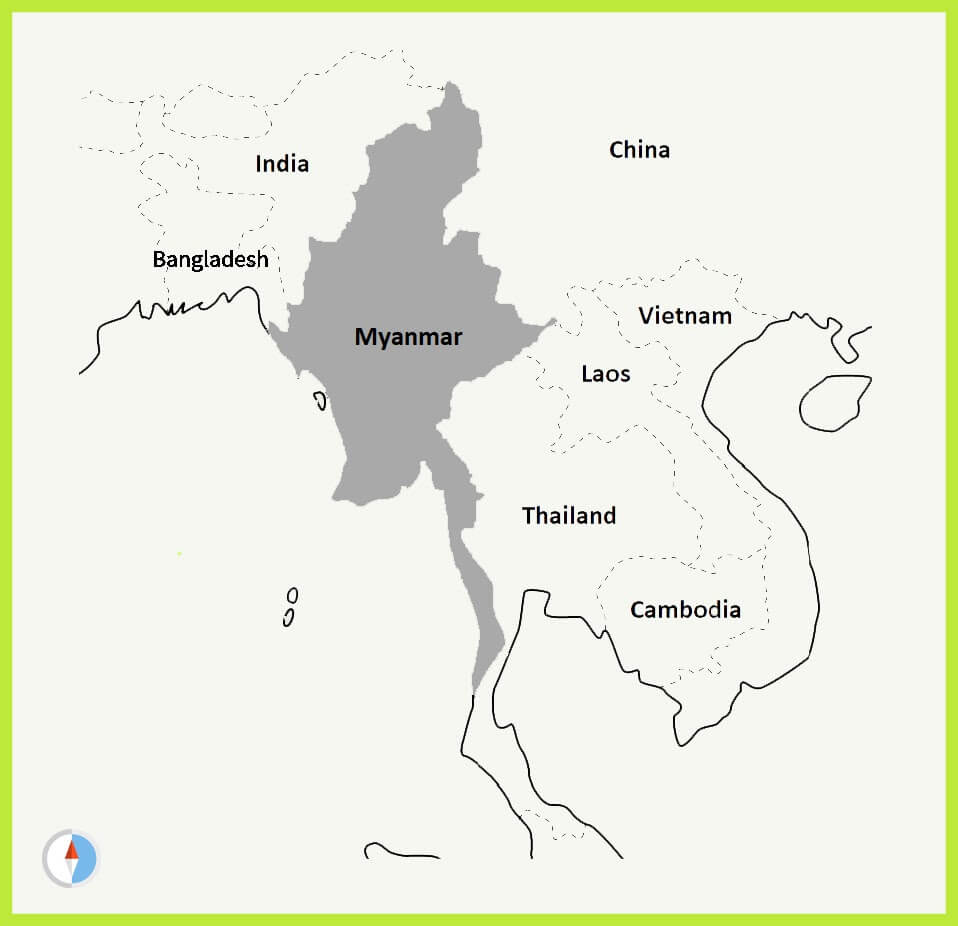 Merit 3

A market of 50 million people with a future

In fiscal 2018, Myanmar's economic growth rate has reached 6.4% whereas, Japan's economic growth rate is 0.8%.

For about 50 years, Myanmar has been isolated from the international economy. However, due to the lifting of economic sanctions from Western countries following the civil government in 2011, a large amount of foreign development assistance and direct investment has flowed into Myanmar. As a result, Myanmar has achieved tremendous economic growth of more than 5% every year since 2011.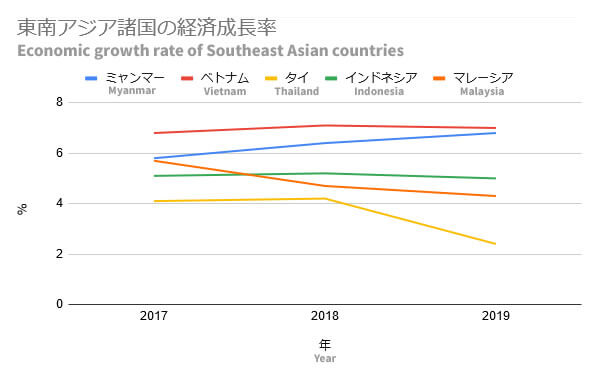 In Myanmar, where economic growth continues in this way, sales of expensive mobile phones and new cars are increasing explosively.
As for mobile phones, the ownership rate, which was less than 20% (10 million units) in fiscal 2013, has increased rapidly to more than 100% (56 million units) since fiscal 2017, mainly due to the opening of telecommunications business to foreign companies. In addition, sales of new cars increased more than 9 times to 21,000 units in 2019 due to restrictions on used cars, which was 2,300 units in 2016. In addition, it is Japanese companies that are expanding into Myanmar that have a significant impact on such results.
Sumitomo Corporation of Japan and KDDI have partnered with MPT, the largest mobile telecommunications carrier in Myanmar, and have had a significant impact on the improvement of Myanmar's telecommunications environment. In the new car industry, Suzuki Motor Co., Ltd. in Japan has the largest market share in 2019, and Toyota Motor Corporation has the second largest market share. In addition, many major Japanese companies such as Acecock, Yakult, and Oji Paper have expanded into Myanmar's domestic market.
In this way, Myanmar has an attractive market now and in the future, and many Japanese companies are already moving against it.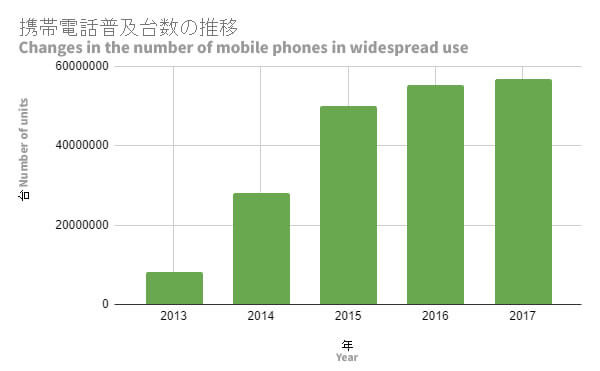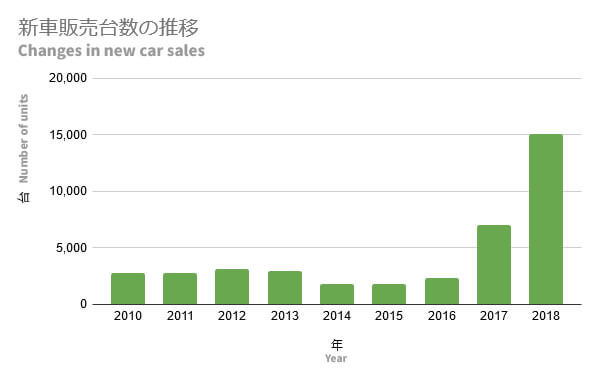 Merit 4

Abundant Resources

In Myanmar, natural gas and oil are produced as marine resources. These are mainly exported to China and Thailand, and natural gas in particular accounts for a large percentage of Myanmar's exports. Foreign investment in this field is also active, and exploration development by foreign capital is also being carried out.

Inland resources include metal resources such as gold, copper, lead, platinum, and rare metals. In addition, it has become one of the world's leading production countries in the field of jewelry resources such as jades and rubies.

In addition, about 50% of the country is forested, and there are abundant unsealed timber resources. It is particularly famous for its high-quality teak, and many Myanmar teaks are exported to Japan. Rubber trees are abundant, and natural rubber production is ranked 10th in the world in 2018.

In this way, there are abundant resources in Myanmar that can be commercialized depending on technology.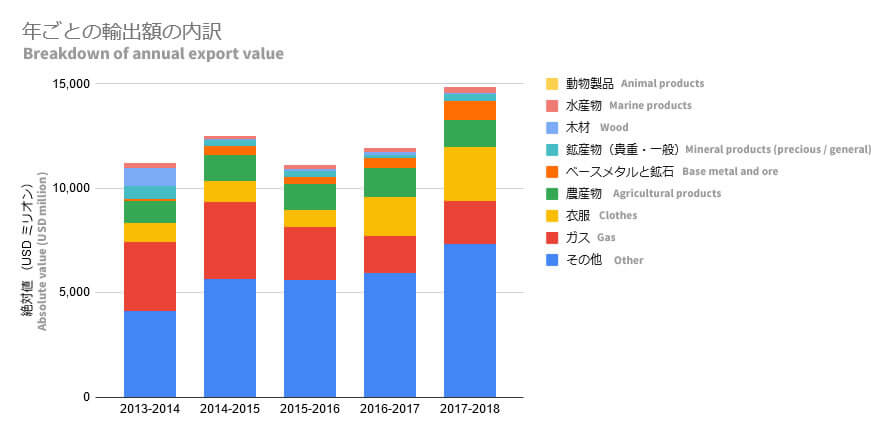 Merit 5

Preferential Treatment for Foreign Investments

Myanmar has preferential treatment to attract foreign investment. The subjects are various industries such as manufacturing, agriculture, and accommodation.

The contents of preferential treatment are slightly different outside the Special Economic Zone and within the Special Economic Zone.

In the case of outside the Special Economic Zone, preferential treatment is prescribed in accordance with the Foreign Investment Law. The main contents are as follows.
Exemption from corporate tax (either 3 years, 5 years, or 7 years depending on the development area)
Duty exemption at the time of importation of materials at the time of construction of facilities for investment business
Duty-free when importing raw materials and unfinished products used in the manufacture of export products
Lease right of land for up to 70 years
The main contents of preferential treatment in the Special Economic Zone are as follows.
Exemption from corporate tax (5 or 7 years depending on the area of the Special Economic Zone)
50% reduction in corporate tax (5 years after tax exemption period)
Duty exemption at the time of importation of materials at the time of construction of facilities for investment business
Duty-free when importing raw materials and unfinished products used in the manufacture of export products (excluding some special economic zone areas)
Lease right of land for up to 75 years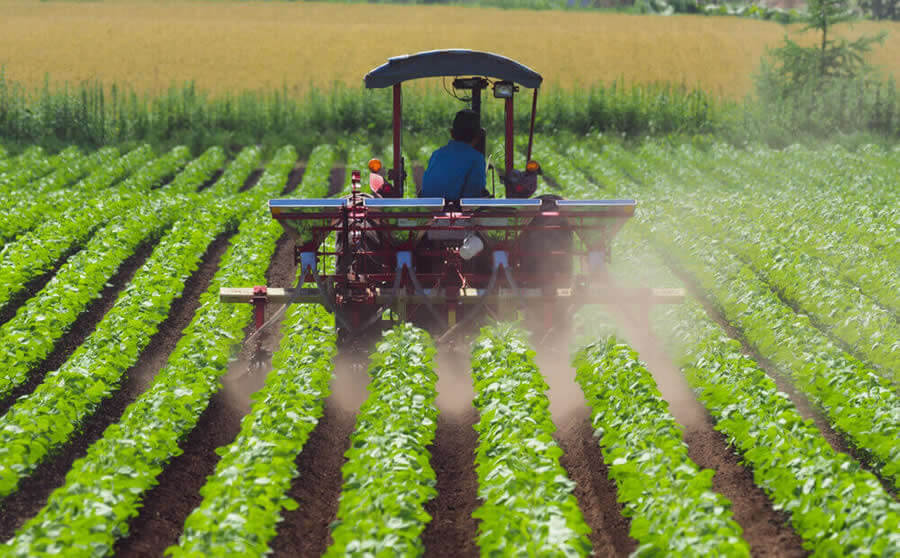 In this way, various preferential treatments have been developed for foreign investment. In addition to these preferential treatment measures, deregulation of foreign investment is also being carried out, and measures to attract investment are being taken at the initiative of the government.
In the future, it is expected that it will become an environment that makes it easier for foreign companies to expand their businesses.
Merit 6

Low language and Communication obstacles

Myanmar has been a British territory for more than 60 years, so there are many people who can speak English. Some of the university's education is also done in English, and many university graduates can speak English.

In addition, there is a Japanese language boom in Myanmar, and the number of JLPT (Japanese Language Test) examinees in July 2018 has increased to 12,000, and the number is increasing year by year.

Therefore, it is relatively easy to hire people who can speak Japanese.

From this environment, language impairments are very low. In addition, more than 90% of them are Buddhists, so there are many people who are gentle and serious. In this way, there are many people who have similar temperaments to Japanese people, and communication impairments are very low in terms of personality.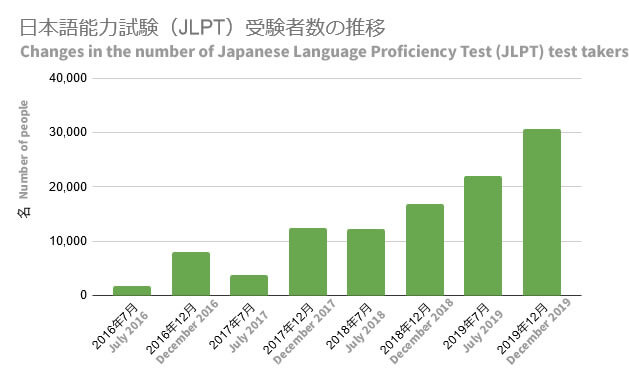 Six Disadvantages of Entering Myanmar
Demerit 1

There are few human resources in the manager level

In Myanmar, where business activities were restricted under the military regime, there is a shortage of human resources with certain business skills, and the supply and demand of managers in particular is tight. This is ranked 5th in JETRO's survey of companies expanding into Myanmar in 2019.

From such an environment, various ideas are being made for each company. A Japanese company employs Myanmar trainees and engineers in Japan, educates them to work in Japanese technology and organizations, and dispatches them to Myanmar bases as executive personnel. In addition, multinational companies with offices in various countries have dispatched human resources trained at other Asian bases to Myanmar.

In this way, each company is responding to this problem unique to developing countries in a way that is unique to the company.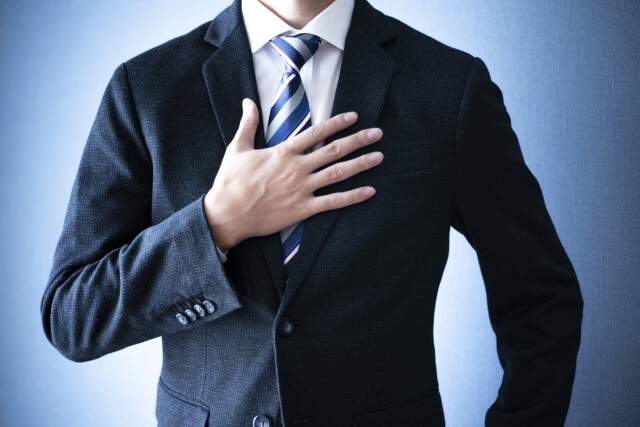 Demerit 2

Extreme Power Shortages

There is a particularly serious shortage of electricity in Myanmar. The annual power generation in Myanmar is about one-fifth that of Vietnam, and the household electization rate is about 50%, which is extremely low in Southeast Asia. Under these circumstances, generators are almost always installed in the factories and residences of companies expanding into the market.

However, special economic zones are an exception. In the Thilawa Special Economic Zone, which is jointly funded by Japan and Myanmar, electricity is supplied from its own power plant, and basically there is no power outage. In addition, water and sewage treatment facilities and communication networks are also deployed, making it an industrial park that meets international standards.

In this way, although the country as a whole is facing the electricity insufficiency, stable supply of electricity can be provided to the companies.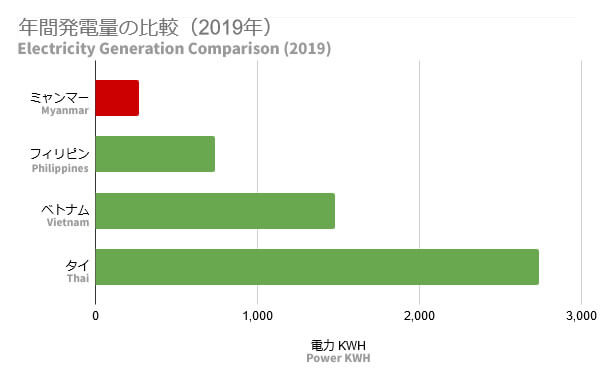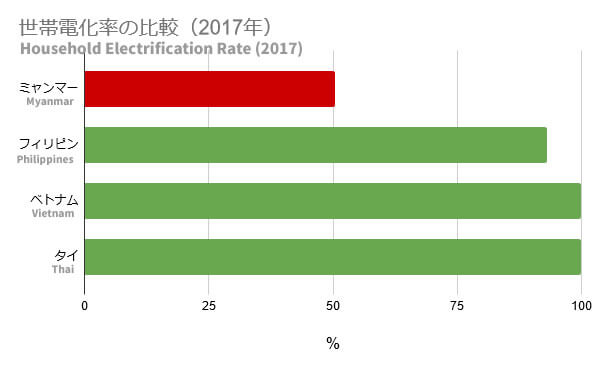 Demerit 3

Inadequate Laws and Regulations

Myanmar's laws are still in the development stage. Compared to developed countries where laws are being developed, new laws are frequently enforced in developing countries such as Myanmar. In addition, there are many parts that are not stipulated by law. As a result, foreign companies that are more likely to do business with technologies and goods that are not in Myanmar are shaken by this unsealed legal environment.

In such an environment, it is a shortcut to hear from companies that have conducted similar projects or consulting companies that supported them.

In addition, consulting companies that have been providing support in Myanmar for many years have accumulated information on the case of various companies entering the market. Therefore, we may be able to obtain advice that leads to a new direction even in fields that are completely unprecedented.
Demerit 4

Significant exchange rate fluctuations

The U.S. dollar rate of Myanmar chat has been decreasing year by year. In addition, the width of the reduction is also very large. In FY2014, the 1USD-984Kyat rate decreased to 1,518Kyat in fiscal 2019. This is likely to be one of the factors behind the outflow of the U.S. dollar out of the country due to a large trade deficit. In the future, if industrialization progresses and high-value-added products can be exported, it will be possible to solve them, but short-term solutions are difficult problems.

Therefore, it is considered necessary for companies to devise ways such as saving money in dollars as much as possible.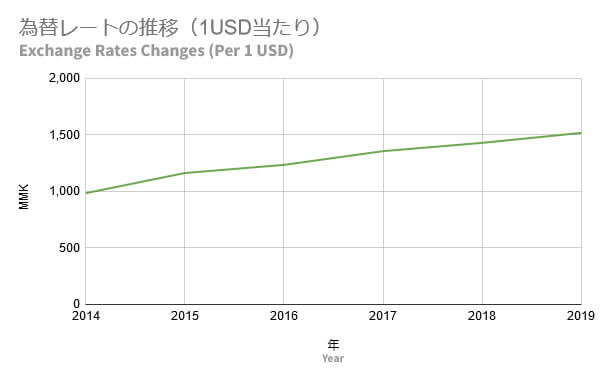 Demerit 5

Uncertain financial management of local companies

It can be assumed that the purpose of M&A is to reduce the time to start the business, secure human resources, and gain market share. When performing M&A for this purpose, it is essential to check the company's accounting books. However, many companies in Myanmar do double entries, and it is not easy to accurately grasp the financial situation.

Due to the large number of companies operating on such opaque books, only five companies have been listed on the Myanmar Stock Exchange, which be bed in 2016.

Currently, tax returns are being put online and regulations against corruption are progressing in Myanmar. Therefore, it has become difficult to escape taxes by forgery of books as before. In the near future, the financial management situation of local companies is expected to improve.
Demerit 6

High Tenant Rates

The rent is very high in the center of Yangon where foreign companies gather. The lease of one flat area of three office buildings examined by our company in August 2020 is as follows.
Sakura Tower 30 USD/month
Pyay Garden 32 USD/month
Sule Square 45 USD/month
The average rent around one square meter in these three locations is 35.6 USD/month. This is not much different from the rent rate of 35.1 USD/month in the Shin-Yokohama area of Japan. Although these three locations are well-located and well-equipped office buildings with major foreign companies only, they are too expensive.
Because of this environment, companies that are expanding into the market have been devised in a variety of ways. One of the ways to do this is to rent a house that is large enough to handle the three roles of residence, office, and warehouse.
In Yangon city, many large houses are rented, and the amount and size vary. You can also rent a luxurious house for a rent of about 4 USD/month per square meter. This monthly reduction in fixed costs is an important factor in whether your business is successful.
It is the best to ask for the consultation from real estate professionals and business consultants before entering the market.